Daventry Country Park attack: Arrests after boy injured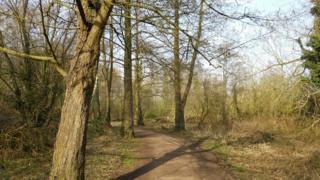 Two teenagers have been arrested on suspicion of assault after a gang of 20 youths attacked a 12-year-old boy and left him with "car crash injuries".
He was punched and kicked in Daventry Country Park at about 20:00 BST on Tuesday, while out with his mother and two siblings.
The injuries to his throat left him with breathing difficulties.
The arrested pair, aged 11 and 15, have been released under investigation, Northamptonshire Police said.
The boy was treated for swelling around an artery in his neck at Northampton General Hospital.
A neighbourhood alert online post from Northamptonshire Police said the attack, where the boy was punched to the ground and repeatedly kicked, was "filmed on a mobile phone".
It said "doctors have likened his injuries to car crash injuries requiring overnight admission".
Police said the investigation was ongoing.