Boy attacked by '20 youths' at Daventry Country Park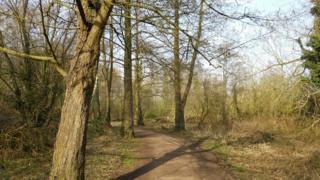 A 12-year-old boy has been left with wounds likened to "car crash injuries" after a gang of 20 youths attacked him.
It happened at Daventry Country Park, a mile from the town, on 15 May at about 20:00 BST as the boy was walking with his mother and two siblings.
The victim had wrist, ribs, neck and throat injuries which caused swelling and breathing difficulties.
He was taken to Northampton General Hospital for treatment and officers are appealing for witnesses.
A neighbourhood alert online post from Northamptonshire Police said the attack, where the boy was punched to the ground and repeatedly kicked, was "filmed on a mobile phone".
It said the boy had swelling to an artery in his neck and "doctors have likened his injuries to car crash injuries requiring overnight admission".
'Not the first time'
Police say they "are aware of the names of some of the group" that are believed to have been involved in the attack, however no arrests have yet been made.
They added that patrols "in the area of the country park and around the town will increase as inquiries continue".
Sgt Sam Dodds said the attackers "laid the boot in" on the boy, in what is believed to be an unprovoked assault.
"It's not the first time it has happened," he said.
"We have live investigations into similar offences.
"We seem to have had a problem over the last three months where it's fashionable - although despicable - to have kids filming other kids stamping on the heads of kids.
"I don't get it, I don't understand it and somebody will end up sustaining serious injuries, or dying as a result."