Independents win at 400% tax hike Desborough council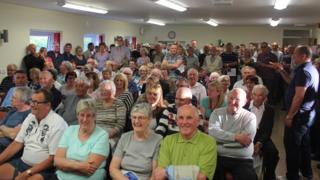 A new party, formed in protest over a 400% increase in council tax, has taken control of a town council.
Independents for Desborough has won eight out of 10 contested seats on Desborough Town Council.
Thursday's by-elections were held after all 10 Conservative members of the authority stood down amid allegations of "bullying, abuse and harassment".
Simon Stroud, who was among those elected, said the council was back "in the community's hands".
Labour won the other two contested seats in the election.
The results mean Independents for Desborough now has nine of the 12 available seats, with Labour holding two and one Independent.
The Conservatives did not contest the by-election.
'No consultation'
Tory members stood down en-masse in February following claims chairwoman Jane Pearce had received abuse from members of the public.
In June 2016, a parish poll had passed a vote of no confidence in the town council.
It came after the Tory administration increased its annual tax levy, or parish precept, from £19.10 to £96.98 - which forms part of the council tax bill issued to householders by Kettering Borough Council.
Mr Stroud said town councils are about "what is right for a town" rather than Westminster-style party politics, adding Independents for Desborough is only registered as a political party for electoral purposes.
He said the 400% tax hike had taken place with "no consultation and no explanation" and had "no science or facts" behind it.
The increase will stay in place this year as it has already been approved, but Mr Stroud said any future tax proposals would "be inclusive".
He said it would only happen if the community wanted improvements and agreed with any set increase.