Hundreds of jobs to go as salad processing site to close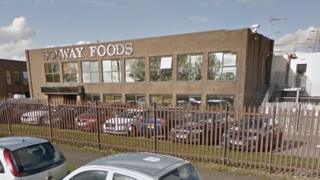 Hundreds of jobs are set to be lost due to the closure of a "loss-making salad processing site".
The Food Utopia plant in Corby, Northamptonshire, will cease all production on 1 August, leaving more than 300 permanent staff without work.
A statement from the company said the scale of losses was such it hadn't been possible "to create a viable alternative to save the site".
Corby MP Tom Pursglove called the news "extremely worrying" for families.
He said it was "also disappointing" for the local economy and goes against the general outlook, which has seen new firms coming into the area.
Food Utopia, based in Godwin Road, Corby, purchased Solway Foods in 2014.
A spokesman for Food Utopia said the company is "consulting with colleagues about a proposal to close our loss-making salad processing site at Corby".
He added: "Our first priority now will be to support our colleagues through this process."