Northamptonshire County Council: Adult service users 'in crisis'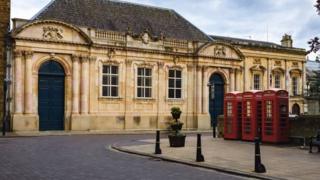 Users of a cash-strapped council's adult social services are in "crisis" and its staff are "stressed", according to a former employee.
Nicki Slawson, a nurse and ex-care manager at Northamptonshire County Council, works for a law firm taking on cases where people are struggling to access social care funding.
In March, an inspector's report said the council "should be scrapped".
The authority said the service is "making good progress".
Director of adult social care, Anna Earnshaw, said the council has reduced the number of outstanding cases.
In February, she told a council meeting services are on the "edge of being unsafe" with 2,000 unassigned cases.
The latest figures show this number has been reduced to 1,800.
Mrs Slawson, who worked for the authority for 15 years, advises solicitors Seatons on cases involving relatives of adult social care users.
"Families are going into crisis," she said. "They are distraught and have nowhere else to go."
She added former colleagues "can't perform as well as they want because of a lack of resources".
'Good progress'
One woman, whose 97-year-old mother is a care home user, said she had been waiting for the council to arrange a financial assessment since January.
The woman, who did not want to be named, claimed the council had run out of money and her mother may have to be moved to another home.
"It could kill her in one fell swoop," she said.
Ms Earnshaw said the council still has "considerable challenges" with 15,000 people referred to it in the last year.
"It's very difficult, because we have limited resources," she said, "but I'm happy we are making good progress."
Independent inspector Max Caller recommended the authority should be scrapped and replaced by two unitary authorities.
Secretary of State for local government, Sajid Javid, has since said he intends to send commissioners into the council.