Primary school could close at lunchtime on Fridays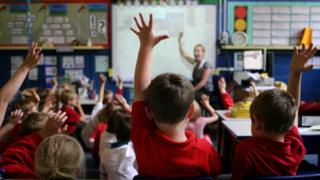 The headteacher of a school in Northamptonshire is proposing adopting a four-and-a-half-day week to prevent staff "burning out".
Jacqui Johnson wants to close Ashby Fields Primary in Daventry after lunch on a Friday to give teachers more time for preparation and marking.
The plan has received a mixed reaction from parents, with some raising concerns about the financial impact of extra childcare to cover the gap.
A consultation will run until 4 May.
Read more Northamptonshire stories here
In a letter to parents, Ms Johnson said a "huge workload" meant teachers work an average of 60 hours a week during term time and holidays "to keep up".
She said: "Many teachers, despite their love of frontline teaching, cannot manage this workload and maintain a healthy work/life balance, and subsequently resign."
The early closure would allow teachers "more time out of the classroom to collaborate... and develop the exciting curriculum we want our children to receive," she added.
The letter also said places at an on-site after-school club would be available.
At a public meeting on Wednesday one parent said the idea was "not very well thought through", but another said: "If it is managed well, it should work."
Emma Lennox said her twins start at the school in September and the move would make returning to work difficult.
"Not a lot of places will employ you on school hours, let alone half a day on a Friday or a whole day off on a Friday," she said.
Gordon White, of the National Union of Teachers (NUT), said the union was "generally supportive of any move to reduce workload and the burden on teaching staff".
The Department for Education spokesperson said the education secretary's priority was to work with teachers to ensure the profession remained "attractive and rewarding".
"We recognise the pressures that teachers can face, particularly regarding workload, and we are working with the profession, unions and Ofsted to strip away work that does not add value and keeps staff from doing what really matters," they said.
There would be no changes to the curriculum or new primary tests for remainder of this parliament, they said.
"Across the country we know academies and free schools are using their freedoms, including the ability to set their curriculum and tailor their working day, to meet the needs of staff, students and parents."