Northampton Notre Dame school: Cemetery hides history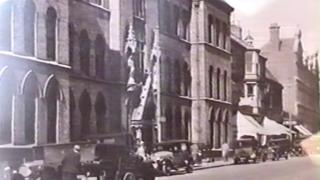 Hidden away between a bustling shopping street and a dual carriageway in Northampton is a tiny cemetery.
It is all that remains of the Notre Dame convent school which once dominated the centre of the town with its ornate chapel, orchard, tennis courts and extensive gardens.
But Matthew Toresen, from Voluntary Impact Northamptonshire, said the Cemetery of the Sisters of Notre Dame, which contains the graves of about 80 nuns who had taught at the school, was in "danger of just vanishing or being built over".
Mr Toresen said people "familiar with old Northampton going back to the 60s and 70s will remember there was a huge, huge school on this site".
"We were concerned there was this beautiful little bit of history, right in the town centre, but set back from Abington Street so nobody really knows it is there," he said.
Northampton Borough Council; the Notre Dame Association, made up of former convent school pupils; and Voluntary Impact have put together plans to renovate the plot and hope it could become part of Northampton's Heritage Trail.
Built in 1852, by the 1960s about 500 girls were attending the school and it had a grand frontage on Abington Street.
However, by 1975 it had closed and four years later it was demolished in favour of shops.
Councillor Anna King, who is heading up the regeneration project on behalf of the authority, said the cemetery was "covered in daffodils" and "does look a little bit run-down".
Cemetery plans show several graves in the middle are marked as "do not disturb", as the nuns buried in them died from the "black fever", believed to be cholera or typhoid.
These nuns were actually from The Sisters of Jesus, resident in Northampton since 1845. Their order was decimated by the disease so they became part of the Sisters of Notre Dame.
Former pupil Pauline "Pip" Jones recalls her time at the Catholic all-girls school in the late 1940s, but not without a little trepidation.
Now 85, she vividly remembers the "extremely strict" but "very good" education she received. Those memories include thoughts of Sister Agnes, who was only 5ft (1.52m) tall, but "your knees used to knock as you went in the office".
"You knew you were in trouble if you were sent to stand outside her office," she said.
"I don't remember anyone having the cane - being outside her door was enough."
She also remembers how the crosses in the cemetery - about 44 of them - were once stolen for lead.
Penelope Flavell, a pupil in the 1950s and now a borough councillor, remembers "some charming, some very strict" nuns.
"If you were going from one part [of the school] on your way to another, you came to a corridor," she said.
"If there was a nun on her way down you had to stand still with your back against the wall until she had passed - to show respect."
President of the Notre Dame Association Margaret Bradbury, who went the school convent school between 1961 and 1968, said: "The nuns gave us something else.
"There was an aura about them that rubbed off on you."
There was more, however, to the Notre Dame convent school than strict nuns. Former pupils remember the impressive building fondly and lament its demolition.
Mrs Jones said the nuns used to look after flowers in the garden and would polish the floors so they could see their faces reflected.
When it was knocked down in 1979, Ms Bradbury did not walk down Abington Street until all the rubble had been removed.
"I was beside myself that the building couldn't be preserved in some way," she said.
"The people were special. The teachers were special. The way we worked was special."