Northamptonshire County Council's HQ sold in £64m deal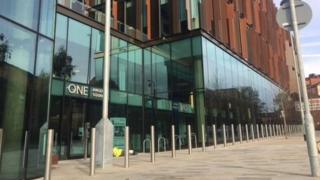 A financially-troubled council has decided to sell and lease back its new headquarters in a £64m deal.
Northamptonshire County Council's One Angel Square offices in Northampton are being sold to Canada Life Investments.
The authority postponed the sale last month and had to use its financial reserves to pay for a £21.1m overspend in its 2017-18 budget.
The leaseback agreement will be for 35 years and aims to generate "savings transformations".
It comes as the government considers whether to send commissioners to review the management of the Conservative-run council following the publication of a highly-critical inspector's report.
It is also considering replacing Northamptonshire's county and district councils with two unitary authorities.
Analysis - Sam Read, BBC Northamptonshire political reporter
For some, the saga over the shiny new building has come to symbolise the troubles at this council.
The authority had said it needed to sell it to balance the books in the last financial year, but after a damning inspectors report that move was "paused".
We are still waiting to hear officially if the government will send in commissioners to take over parts of the council's management.
But the council has clearly decided it does not want to wait and has agreed this deal now.
This will not mean a reversal of £40m cuts announced in February, which includes the proposed closure of 21 libraries.
This contract may be passed on to a new unitary authority that has not even been formed yet.
Michael White, Canada Life's property investments director, called the deal "another good example of private and public sectors working together in mutual benefit".
The council, which moved into the building last year, said it was acting on the advice of auditors PricewaterhouseCoopers.
Matthew Golby, council leader, said: "The advice received is this deal represents very good value for money for taxpayers and generates more money than the construction costs of the building.
"Put bluntly, without this sale far more service cuts would be required and the process of reorganising local governance in the county would be carried out against a backdrop of unsustainable cuts to the very services the new councils would be created to run."