Northamptonshire County Council: Cash-strapped authority postpones HQ sale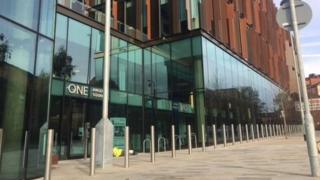 A cash-strapped council has decided to postpone the sale of its £53m headquarters.
Northamptonshire County Council had planned to sell its new One Angel Square headquarters by the end of the financial year to balance its books.
Instead, the authority will use all of its financial reserves to make up the £16.7m shortfall.
Acting council leader Matthew Golby said the decision was a "last resort option".
The building, which opened last year, was designed to save money by closing 12 offices and bringing them under one roof.
In February council decided to sell the office complex as freehold with the council leasing it back for a period of 25 years or more.
The decision was made after the authority brought in a section 114 notice, banning new expenditure due to a £21.1m overspend for 2017-18.
It has been delayed after Secretary of State for local government, Sajid Javid, decided to send government commissioners into the authority following the publication of a highly critical inspector's report.
The report not only recommended sending in the commissioners, but also said two new unitary authorities should be set up in Northamptonshire. This would signal the end of the county council.
'Shutting libraries'
Mr Javid has asked the authority, along with the county's district and borough councils, to submit their views on the county's unitary governance to him.
The council said it has decided to delay the sale "due to the likelihood of local government reform".
The reserves would need to be replenished in 2018/19 meaning further savings will need to be identified, it added.
The council has already agreed budget cuts of almost £40m this year, including shutting 21 libraries.