Northamptonshire County Council: 'Most decisions' to be made locally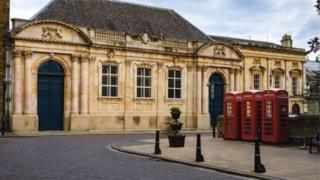 "Most decisions" at a failing council will be made locally despite government commissioners being sent in.
Two officials will be in place at Northamptonshire County Council until "a long term solution" is found, a letter from local government secretary, Sajid Javid, revealed.
On Tuesday, Mr Javid announced he is minded to send commissioners into the cash-strapped authority.
The council said it was looking forward to working with the officials.
Mr Javid had told the House of Commons the commissioners would "take direct control" of the Tory-run authority.
He was reacting to a damning independent report which said the council should be scrapped.
The report, commissioned by Mr Javid in January, recommended commissioners were sent in prior to the creation of two new unitary authorities.
The role of the commissioners
Sajid Javid's letter said the commissioners should focus on:
The council's governance and scrutiny of strategic decision making
The financial management of the council, including budget setting, scrutiny of annual budgets and the power to amend budgets
The appointment and dismissal of statutory officers, for example the chief executive, finance officer and monitoring officer
In the letter, Mr Javid wrote: "In practice, most decisions will continue to be made by the authority."
It added any concerns would be referred to the commissioners "to ensure proper decision making" and help bring "the authority's finances under control and allow robust service delivery".
It also said the two commissioners would be paid for by the county council, including their expenses.
They will consist of a lead commissioner focusing "primarily on governance and scrutiny" and a second one "on strategic financial planning and budgetary control".
The letter says they "should be in place for three years" or until a "long term solution" such as the creation of new unitary authorities is complete.
A council spokesman welcomed "the clarification of the views of the Secretary of State and the potential direction of travel for Northamptonshire".