Northampton loan: Ex-MP David Mackintosh interviewed by police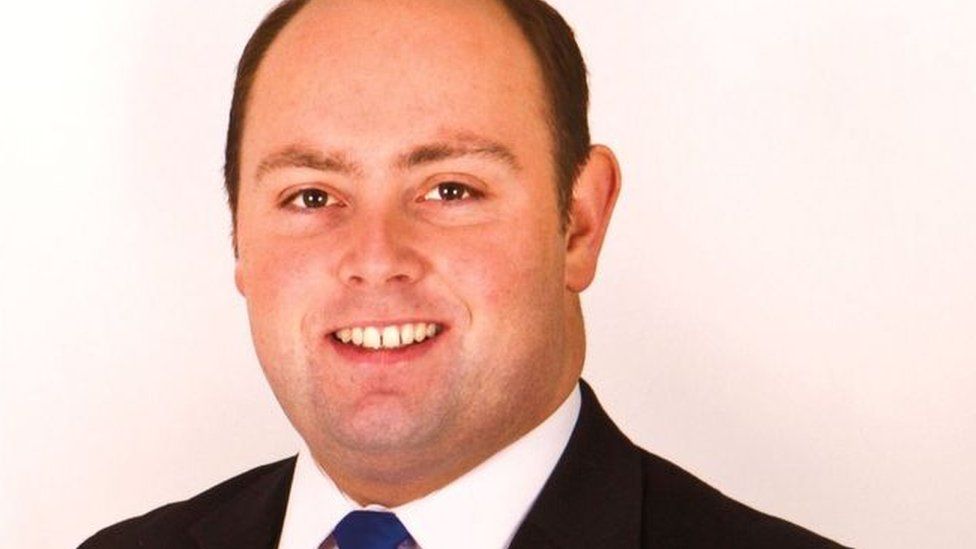 A former MP has been interviewed by police investigating the disappearance of millions of pounds loaned to Northampton Town Football Club.
In a statement, detectives said a 39-year-old man attended for a voluntary interview under caution.
Mr Mackintosh said he welcomed the opportunity to speak with police.
Northampton Borough Council lent £10.25m to Northampton Town to redevelop their stadium and nearby land, but the work stalled.
The funds have seemingly vanished, leaving an unfinished stand.
The company which managed the project, 1st Land Ltd, went into liquidation owing millions to contractors.
Eyewitness Dalbir Tapia said she saw officers entering and leaving Mr Mackintosh's house in Great Billing, Northampton on Monday, carrying items away.
She said: "I saw a large van with the words Tactical Support Unit along with an unmarked police car in Mr Mackintosh's driveway."
"The front door was open and I saw officers leaving with items inside a clear plastic bag."
Northamptonshire Police said: "During the course of this week a 39-year-old man from Northampton has been assisting officers investigating the missing Sixfields development money.
"The individual attended for voluntary interview under caution".
Mr Mackintosh said: "I attended an interview on a voluntary basis to assist Northamptonshire Police with their general enquiries.
"As this is an ongoing matter I will not be commenting further at this stage."
A police inquiry into the missing money has been running for two and a half years.
Officers are investigating allegations of "theft, fraud, bribery, misconduct in public office, electoral offences and money laundering".
Last month police officers said they had begun preparing a file for the Crown Prosecution Service.
The CPS will decide whether to charge anyone or not.
Related Internet Links
The BBC is not responsible for the content of external sites.