Northamptonshire County Council's chief leaves post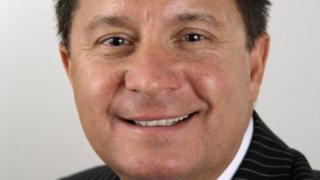 The interim chief executive of a cash-strapped council is to leave his post by "mutual consent".
Damon Lawrenson took on the role at Northamptonshire County Council after Paul Blantern stepped down in November.
Last week a government-appointed inspector was highly critical of the way Northamptonshire County Council was run, saying it should be scrapped.
Acting Conservative leader, Matt Golby, said: "Damon has been an ambassador for this county at a very difficult time."
Earlier Mr Lawrenson told the Local Government Chronicle that the inspectors' report into the authority contained "factual inaccuracies" and defended his role in trying to get a "grip" on the county's finances.
The county council says Mr Lawrenson will leave next week.
Andrew Quincey, the council's current Director of Commercial, Place and Health will become the authority's acting chief executive.
In further criticism last week, a union claimed that the appointment of Mr Lawrenson, who has been earning £1,150-a-day in the role, "lacked transparency".
Unison said he was given the role "too quickly", but while the council accepted the role was not advertised, they said Mr Lawrenson's introduction ensured a "quick and efficient transition".
Northamptonshire County Council's financial crisis: A timeline
PM rebuffs 'incompetence' claim
Earlier on Wednesday, Labour leader Jeremy Corbyn asked Theresa May if the Tory-run council went bust due to Conservative "incompetence".
In an exchange at Prime Minister's Questions, Mr Corbyn said Northamptonshire County Council had warned it could not cope with the scale of cuts.
Mrs May accused the Labour leader of failing to reflect the conclusions of a report into the council, adding that the county's cash crisis was "not a case of under funding".