Darryl Souza inquest: Biker died in crash at 'scary' junction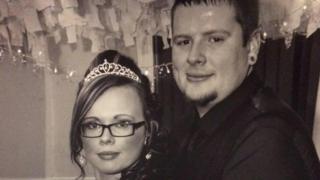 A coroner has recommended a safety review of a "scary" road junction where a biker was killed in an accident.
Darryl Souza, 26, died after his motorbike collided with a car as he turned on to a rural road near Clipston in Northamptonshire in October.
An inquest heard the approach to the junction is partially obscured by tall hedges and bends in the road.
The assistant coroner called on the "relevant authorities" to look at ways of preventing future deaths there.
In conclusion at County Hall in Northampton, Hassan Shah said Mr Souza died from chest injuries as a result of a road traffic collision.
He added neither driver was under the influence of drugs or alcohol and there was no evidence of speeding or dangerous driving.
He and three friends were riding home to Rushden after attending an event at the National Memorial Arboretum in Staffordshire on Saturday, 7 October 2017.
Two of the men riding with Mr Souza said he was "thrown high in the air" after his Yamaha bike collided with a BMW Mini as he turned from Longhold Road on to Naseby Road at about 13:30.
An air ambulance arrived but he was pronounced dead at the scene.
'Scary' junction
His widow, Louise, described him as "loving, caring and very popular".
The car's driver was left unconscious and, in a statement, said she spent three weeks in hospital and had no recollection of the incident.
A witness, who was driving nearby, said Mr Souza had slowed down and looked both ways before pulling out into the road.
He described the junction as "scary" and said that 60mph was "not an appropriate speed limit" for the area.
Crash investigator John Underwood from Northamptonshire Police said the approaching car would have been visible to Mr Souza at the junction but that it could be made safer.
He said there had been two fatalities at the junction in the past ten years and Northamptonshire Highways was looking at improving signage there.