Northamptonshire Council: Corbyn attacks Tory 'incompetence'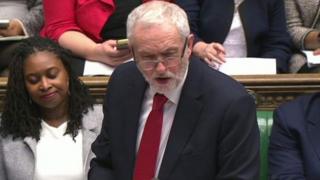 Jeremy Corbyn has asked Theresa May if a Tory-run council went bust due to Conservative "incompetence".
In an exchange at Prime Minister's Questions, the Labour leader said Northamptonshire County Council had warned it could not cope with the scale of cuts.
Mrs May accused the Labour leader of failing to reflect the conclusions of a report into the council.
She said the county's cash crisis was "not a case of under funding".
Mr Corbyn said the struggling council had issued its warning back in 2013-14.
He said the council put in place a "slash and burn" model which involved outsourcing 96% of its staff to private firms.
Mrs May said the government is ensuring councils up and down the country can provide good services and are "costing people less" than would be the case under Labour.
On 2 February this year the council banned almost all new spending for 2017-18 and 18 days later was told by its auditor KPMG that its 2018/19 budget may be unlawful.
Later a revised budget was agreed, involving nearly £40m in cuts
Last week, an inspector's report concluded the financially-troubled county council should be scrapped.
The report, ordered by Local Government Secretary Sajid Javid, recommended "a new start" for the authority which is "best achieved by the creation of two new unitary councils".