Northampton students without hot water told 'use gym'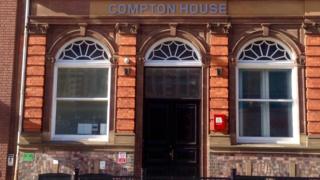 Students left without hot water for "months" were told they can use showers at a nearby gym instead.
The University of Northampton undergraduates at Compton House received an email last month saying "a quick fix is not available" for the "lack of continuous hot water".
One student said the situation is "a joke, especially in this weather".
The BBC approached Digs Property, which manages the building, but have not received a reply.
Compton House, based on Abington Street, opened in October, when students said the £5,000-a-year halls of residence were like a "building site".
At that stage the university's Students' Union managed the tenancies in the building, but in November it ended its contract with owners Compton House Developments. Digs Property took over.
It came after students had been evacuated from the building in October because of flooding.
An email update to students sent by Digs Property on 15 February said students would be offered membership of a private gym across the road "until the hot water issues are fully resolved".
The students, who wished to remain anonymous, said problems with hot water had been continuing for "months".
The email said Digs had "secured gym membership for all tenants at Compton House".
It added: "You will be entitled to use all the gym's facilities and classes etc., as well as the showers."
One student said the issue had been "made something we have to deal with rather than any taking action".
She said she didn't think gym membership "compensated enough for no hot water and no deadline as to when it will be fixed".
"This is disgusting. As students we are being exploited to the fullest," she said.
Another said he felt the "new letting agency is solving issues quite well, but there hasn't been hot water in more than two months".