Northamptonshire Council: MPs back unitary authority call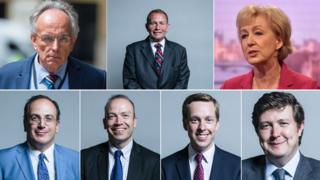 A troubled council "needs to be abolished while the iron is hot" in the wake of a "hard-hitting" inspector's report, a group of MPs has said.
Northamptonshire's seven Tory MPs said recommendations from a government report should be completed quickly.
The review, ordered by Local Government Secretary Sajid Javid, said two new unitary authorities should replace the current county council.
The council welcomed the report's recommendation for unitary governance.
Max Caller, who led the government investigation, said Northamptonshire should have two new unitary authorities by 2020, one covering Daventry, Northampton and South Northamptonshire and the other covering Corby, East Northamptonshire, Kettering and Wellingborough.
'Storm of poor leadership'
That would mean the county council would cease to exist.
The report said its findings are "very serious" for the council and its residents.
It added that "living within budget constraints is not part of the culture" of the council.
In a statement, the seven MPs said they welcomed Mr Caller's report, adding the county council was hit "by a perfect storm of poor leadership in a financially challenging environment".
It adds that now is "not the time to keep scrabbling around" and the days "of complex two-tier local government in the county are at an end".
Deputy leader of the authority Matthew Golby, who is performing the functions of council leader, said the council accepted the inspector's report.
On Friday, the Conservative council's cabinet member for finance, Robin Brown, was sacked by Mr Golby.
His departure follows that of leader Heather Smith, who resigned after the publication of the report on Thursday.
Mr Javid called for the report in January after the council revealed it was looking to make budget cuts of about £34m.
The authority was later forced to ban all new spending to balance its budget for this year.
Auditor KPMG then issued a legal warning, prompting the council to re-work its budget for 2018-19 to make cuts worth £40m.
Northamptonshire County Council's financial crisis timeline