Northamptonshire County Council cuts: Adult services 'at edge of being unsafe'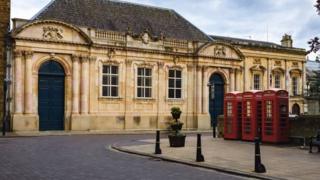 A financially-troubled council's adult social services are on the "edge of being unsafe" with 2,000 unassigned cases, a budget meeting has been told.
Anna Earnshaw, director of adult social care at Northamptonshire County Council, told the meeting the service was "severely underfunded".
Councillors heard it needed to save an extra £9.9m on top of the £29.3m of savings for 2018-19 already proposed.
Ms Earnshaw said: "We're not in a place I want to be."
She added: "The service is on the edge of being unsafe."
The new savings were agreed by the cabinet and will now go to the full council on Wednesday for final approval.
---
At a glance - Northamptonshire County Council's revised budget savings
Closing 21 small libraries as council-run libraries, retaining the county's eight large and seven medium libraries
Removing all bus subsidies, including CountyConnect and CallConnect, from the end of the school term in July 2018
Reducing the trading standards budget by 42%
Reducing the highways maintenance budget affecting carriageway and footpath repairs and inspections
Increasing on-street parking controls in locations across Northamptonshire
Reducing councillors' allowances
A pay freeze for staff during 2018/19
---
The council's auditor KPMG told it to make more savings and warned the authority its books did not balance and may break the law.
Among the new savings is a plan to close 21 libraries.
It is also reducing the highways maintenance budget.
As part of the proposed closures, the council said it would work with interested communities to provide an independent library service.
Councillor Sylvia Hughes (Conservative), said: "It is hugely regrettable that we have to consider this revised proposal for the future of the library service in Northamptonshire.
"We heard loud and clear what residents across the county told us during the 12-week consultation, but given the advisory notice issued by our auditors KPMG last week, we have little choice but to reconsider our preferred option."
The council, which is projected to overspend its 2017-18 budget by £21.1m, was issued with a spending ban earlier this month.