KPMG issue Northamptonshire County Council with law breach warning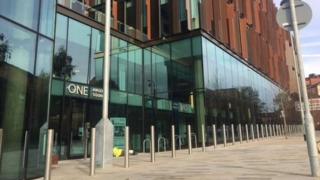 A financially troubled local authority has been warned by its auditors that it should not sign off its budget as it may be breaking the law.
Earlier this month, Northamptonshire County Council issued a notice banning new expenditure due to "severe financial challenges".
Auditors KPMG said its budget does not balance and that could breach the Local Audit and Accountability Act 2014.
The council said it faces "very real risks" in trying to balance its budget.
KPMG believes that the council's financial plans do not add up.
It said the council is relying too heavily on takings from selling off land and buildings - funds which are not guaranteed.
A spokesman for Northamptonshire County Council said: "We have been clear that there are risks in our budget proposals for 2018-19 given this funding position and the ongoing demand pressures we face.
"We have worked hard to ensure that the budget proposals being put forward for next year are accurate and realistic. We will now review and respond to KPMG's advisory notice as required."
He said a further extraordinary council meeting will be held on 28 February "to debate and vote on the final budget proposals".
The council brought in a so-called section 114 notice preventing all new expenditure at the start of February.
It is believed to be the first such notice issued in 20 years.
In the notice, Mark McLaughlin projected a £21.1m overspend for 2017-18, partly caused by the failure to sell housing development land.
He said the situation for the following year was "grave".