Storm Doris 'bite dog' Muppet won't be put down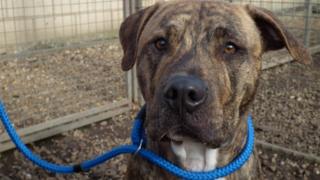 A dog that escaped from a garden during Storm Doris and attacked several people will not be put down.
Muppet was seized by police on February 23 last year after running from a garden in Duston, Northamptonshire, with another dog, Phoebe.
Four people were bitten and Phoebe was shot by police at the scene.
Northamptonshire Police withdrew an order to have the dog destroyed ahead of a hearing at Wellingborough Magistrates' Court.
The court ruled that Muppet, a lurcher-whippet crossed with a Staffordshire bull terrier, should be muzzled at all times while in public.
Owner Jeffrey Penfold said his pet had a "good nature" and was "frightened by the storm".
Police had initially proposed to have the dog put down and had twice asked Mr Penfold to sign a voluntary destruction order.
When he refused, the case was sent to court.
However, before the hearing on Thursday, Mr Penfold and the force reached an agreement that such an order would not be made as it was "completely out of character for Muppet".
Magistrates also ordered that the dog must be secured to prevent escape and controlled while in public by someone over 16.
They also ordered Mr Penfold maintain third party insurance for the dog.
'Good nature'
Speaking after the hearing, Mr Penfold said it had made his Christmas to be reunited with "placid" Muppet in December after not seeing him since he was seized last February.
"None of those who were bitten could say that they were bitten by Muppet," he said.
"He really isn't that kind of dog, when he was a puppy my wife, who was a carer, used to take him into care homes.
"He's got a good nature, it was completely out of character for him.
"He was frightened by the storm - by the noise. It is a shame that he has to wear a muzzle everywhere because I don't think he is a risk but it's better than the alternative."