#FindMissWard: Author finds English teacher 40 years on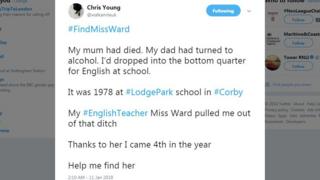 An author has tracked down the English teacher who supported him 40 years ago when his mother died thanks to a mass social media search.
Chris Young appealed on Twitter to help find Lyn Ward, who taught at Lodge Park School in Corby in 1978.
Miss Ward was found via Mr Young's former music teacher Gill Manning and with the help of 30,000 retweets and responses to his search.
Mr Young, 52, said it was "like meeting one of your childhood heroes".
Mr Young said: "I don't have the words to describe how I feel. I'm so incredibly thrilled and excited. It's like meeting one of your childhood heroes."
He was 12 when his mother died and his alcoholic father was unable to cope.
He said Miss Ward "treated me like a rock star, loved what I wrote and got me to talk in front of the class" and he moved from the bottom quarter to fourth in the year.
Mr Young's quest to find her saw teachers at the school "firing off emails in the hope one would land" to former staff.
Miss Manning said she had a phone number and address for her, but the number turned out to be wrong.
But it was not over then as the address proved to be correct and Miss Ward, who has since changed her name and wishes to remain anonymous, contacted Mr Young on email last week.
He said: "She was gobsmacked and swept away by it all.
"The phrase that summed it up for me was that she felt she was the cat that got the cream.
"I never lost hope [of finding her] because the effect this lovely woman had on my life had already been made."
Lodge Park's principal Leo Gilbert said it was a wonderfully "heart-warming story".
"I've never known a teacher that has gone into teaching to be thanked. But we can all remember those teachers that make the positive impact on our lives," Mr Gilbert said.
"This [finding Miss Ward] is the sort of thing that makes your day."
Former Edinburgh-based social worker Mr Young is now a mental health campaigner living in Ilmington in Warwickshire.
Mr Young said the pair plan to meet up in the near future.