Daughter of slapped dementia patient 'angry' at police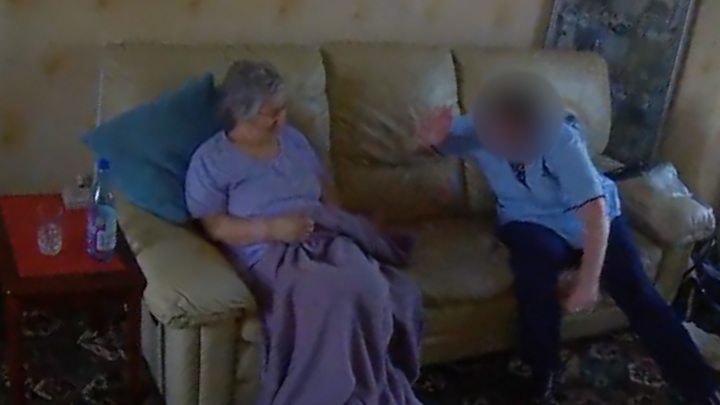 The daughter of an elderly dementia patient slapped by her carer said she is angry the woman only received a police caution.
Sabina Marsden, 78, was also told she "stinks" by the carer, who was unaware she was being filmed.
Mrs Marsden's daughter Gina Owen said she was "furious". Employer Mega Care said it was "appalled and disgusted".
Northamptonshire Police said safeguarding vulnerable people was a "high priority".
Mrs Owen said she had only installed the camera in her mother's home shortly before the incident on 13 June 2017.
She said it happened within ten minutes of her monitoring the video.
'Physically sick'
"Mum didn't provoke it. Mum can't talk. She couldn't hit back," Mrs Owen said.
"I left work and then we came down to the house. I felt physically sick. I never thought it would happen in my mum's home.
"The police have done the interview and she only got a caution. I'm angry about that and I'm not happy about the outcome."
A spokesman for the force confirmed it gave the 46-year-old carer a caution.
"It's disappointing when victims and their families are not completely satisfied with the outcome of an investigation and we would be happy to discuss this with them if they'd like to contact us," he added.
Mega Care, which no longer employs the woman, said in a statement: "We are appalled and disgusted by the actions of this ex-staff member.
"We will be working with law enforcement and other governing bodies to ensure she does not have the opportunity to repeat these actions."
The Care Quality Commission (CQC) inspected the company's procedures after the incident.
A spokeswoman said: "Following our inspection, the provider evidenced the steps they had taken to reduce the risk of a similar incident happening again, including introducing weekly telephone calls to people and their relatives to check they felt safe in the presence of care workers."