Amazon removes magnetic putty from website over arsenic fears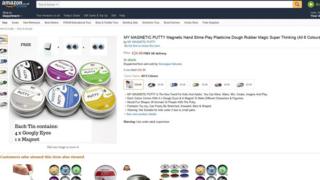 Amazon has removed a children's toy from its website over fears it contains dangerously high levels of arsenic.
It comes after testing of a product labelled "Magnetic Putty" found it contained seven times the permitted amount of the poison.
Northamptonshire Trading Standards barred it from sale on Wednesday after discovering it on a market stall. Amazon has now also removed it.
The online retailer said: "Customer safety is our priority."
It is not known how many people bought the putty.
Northamptonshire Trading Standards said only one product had been banned, not all magnetic putties.
"The advice would be for people to stop using it and they can contact the Citizens Advice Consumer Service," it said.
It added other brands would be examined.
You might also like...
According to Northamptonshire Trading Standards, a magnet included in the banned toy, which has no manufacturer or importer identification, was found to be 29 times over the allowed magnetic force and could be "easily swallowed".
The product also contained twice the amount of permitted lead.
It was labelled as not suitable for 0-3 years but did not include a CE mark to demonstrate compliance with EU safety, health and environmental requirements for goods.
What is arsenic?
Arsenic is a natural chemical element which is present in air, water and land
When it is found in inorganic form it is highly toxic and long-term exposure can cause cancer and skin lesions
Early childhood exposure has been linked to negative impacts on cognitive development and increased deaths in young adults
Source: World Health Organisation
Information is being shared with other regional bodies about the banned toy, Northamptonshire Trading Standards said.
Amazon said: "All marketplace sellers must follow our selling guidelines and those who don't will be subject to action including potential removal of their account.
"The product in question is no longer available."