Kayley MacLeod inquest: 'Unclear' if hanged patient wanted to die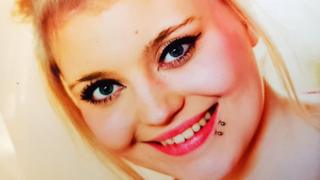 It is "unclear" if a patient found hanging in a hospital ward intended to kill herself, an inquest has concluded.
Kayley MacLeod, 21, died days after being found unconscious at St Mary's Hospital in Kettering in October 2016.
A jury heard she regularly self-harmed, had previously attempted to take her own life and had written a letter three days earlier saying she felt suicidal.
The coroner at Northampton County Hall recorded a narrative verdict and did not make any recommendations.
Anxiety and depression
Doctors had diagnosed her as having an emotionally unstable personality disorder, anxiety and depression.
She had received help from children's mental health services from the age of 15 but was moved to an adult unit at St Mary's when she turned 18.
The inquest heard instances of self-harming "dramatically increased" after the move, described by her father as "abrupt" and without a proper transition.
One doctor said his request to delay the move was rejected by NHS England because it was against national guidelines.
In a statement read to the jury, her mother questioned why her daughter had not been under "constant observation" in hospital.
A decision had recently been made to reduce the frequency of her observations to once every 15 minutes.
But a trust investigation found staff had acted appropriately and had checked up on Ms MacLeod 10 minutes before she was found unconscious.
The coroner's conclusion read: "It is likely she intended that the outcome was fatal but, due to the nature of the condition Kayley was suffering from, it is unclear."