Northamptonshire County Council provided only night care for deaf man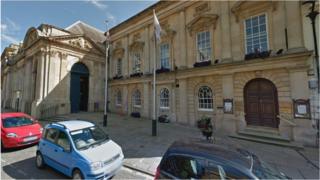 A council has been accused by the social care ombudsman of illegally limiting care funding for a profoundly deaf man.
The unnamed man spent £17,000 on his own daily needs as Northamptonshire County Council only funded night care.
Ombudsman Michael King said the council was obliged to meet all his needs.
The council said the man had used informal care services and was unable to provide evidence of spending, so it was challenging the ombudsman's ruling.
The council's own assessment of the man, who is profoundly deaf, suffers from sleep apnoea, anxiety and has other mental health needs, indicated he required both day and night-time support.
The council initially accepted a fault but withdrew this later, the ombudsman said.
Mr King said: "The law is clear, people should not be put in the position of having to pick and choose which areas of their life are supported and which neglected.
"When an assessment is done and essential care needs are identified, it's not an option to prioritise the support."
The man had been told provision of daytime care would cause a reduction in nightly cover.
"I am particularly disappointed Northamptonshire council has reneged on its acceptance of fault, and left the family without support," Mr King said.
In a statement Northamptonshire County Council said it would challenge the ombudsman's recommendations to make sure taxpayers' money was spent correctly.
"This includes issues around the private care purchased by the service user, which was an informal arrangement. He has been unable to adequately evidence this expenditure," it said.
"We are committed to working with the service user and his family to ensure an up-to-date assessment of his needs can take place... in accordance with our eligibility criteria."