Arthur Brumhill murder: 1993 investigation hindered by 'too many' suspects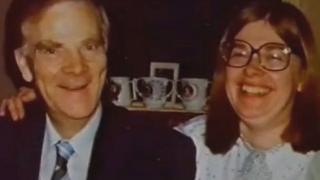 The investigation into a pet shop worker's "brutal" unsolved murder was harmed by a lack of witnesses and "too many suspects", the detective who led the case has said.
Arthur Brumhill, 76, was found dead in Northampton on 21 January 1993.
His family lived in "desperate hope" of his killer being brought to justice, said retired detective Bob Thorogood.
Northamptonshire Police said all unsolved murder cases remained open and were reviewed regularly.
Last year a jury found Stuart Jenkins not guilty of murdering Mr Brumhill, whose body was discovered with 26 injuries and covered in straw in the basement of Denton's pet and garden shop in Wellingborough Road.
A tyre lever, similar to a crowbar, and a small amount of money were taken. It is believed the killer escaped through an upstairs window.
"From the very start, it was difficult," said former chief superintendent Mr Thorogood, who retired in 1999.
Recalling the "chaotic" crime scene, he said the investigation had been harmed by a lack of witnesses.
"Added to that, we had - in effect - too many suspects. There were quite a number of people who could have been involved, but in the end transpired not to have been," he said.
A number of arrests were made at the time, but nobody was charged despite an appeal on the BBC's Crimewatch.
"The person I feel most sorry for is Arthur's daughter, who has kept in touch with me over the years, even since I've retired, in the desperate hope that she will see justice for her father," added Mr Thorogood.
Northamptonshire Police said, as with any other unsolved murder case, new information would be responded to and it would "pursue any lines of inquiry available".
A force spokesman said: "We will never forget those people who have had their lives taken away at the hand of another and remain committed to seeking justice in those cases that remain unsolved."