'Suicidal' patient tied ligature on hospital ward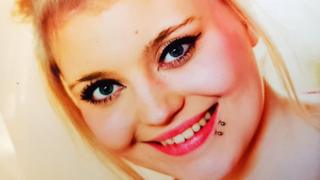 A mental health patient died after tying a ligature around her neck in a hospital bedroom, an inquest has heard.
Kayley MacLeod, 21, was found not breathing and unresponsive at St Mary's Hospital in Kettering in October 2016.
A jury at Northampton County Hall was told she had self-harmed there and wrote a note days before which read "I'm the most suicidal I've ever been".
The four-day inquest will look at her care plan, risk assessment and how often she was observed in hospital.
Anxiety and depression
A decision had recently been made to reduce the frequency of her observations to once every 15 minutes.
Her father Andrew MacLeod told the inquest his daughter had begun to have mental health problems at the age of 15 and would self-harm.
She suffered with anxiety, depression and personality disorders and had attempted suicide in July 2013.
A note she had written days before her death said: "I want to put all my remaining energy into my last attempt to make sure it's successful."
She was admitted to hospital seven times between 2012 and her final admission to St Mary's was on 3 October 2016.
On 11 October she was discovered unconscious with a ligature around her neck, secured to the bed frame, and was taken to hospital in Coventry where she died three days later.
A statement was read from her mother who said the family was "devastated" by her death and there were many "unanswered questions" including why she was not under "constant observation" in hospital.
A spokeswoman for Northamptonshire Healthcare NHS Foundation Trust said: "As a trust we take patient safety seriously and will ensure we fully comply with the requirements of the inquest."
The inquest continues.