Police in Northampton stop pallet stack driver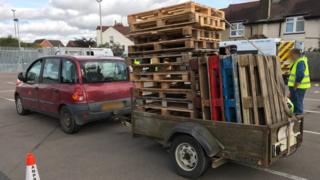 Police have stopped a driver after he was spotted with a precarious 9ft-high (2.7m) stack of pallets secured with a single length of rope.
The driver was pulled over by officers on Thursday afternoon in London Road, Northampton.
A spokesman for Northamptonshire Police said the driver was also using rebated fuel, known as red diesel, and unsafe tyres.
He said officers intended to action against the driver involved.
The trailer also had no working indicators or brake lights and no registration plate, the spokesman said.
In a tweet issued by the constabulary, PC Dave Lee said: "Where do we start? Anyone want to guess what offences we've got on this routine stop?"
A number of respondents on the social network pointed out the 140-character tweet limit was insufficient to list them all.