Northampton students 'living on building site'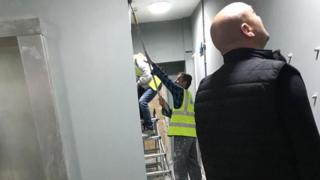 Students say they are living on a "building site" after work to complete a £5,000-a-year halls of residence overran.
Some said they had been forced to miss lectures at the University of Northampton while they organised alternative accommodation.
About 30 students have moved in so far with 50 more due to join them.
University of Northampton's Students' Union, which runs the halls, apologised and said people were being helped.
Work is continuing to refurbish Compton House in Abington Street.
But the union said all the floors where students had taken up residence had been finished, with appropriate safety measures such as fire alarms in place.
A second year overseas student, who wanted to remain anonymous, said he had expected to move into his flat in June.
Instead, he had been paying for his own accommodation and storage before being offered a place at the nearby Ibis hotel on Monday with some other students.
He said the block is a "building site", with unfinished floors, dusty corridors, dirty stairways and pots of paints in the corridors.
"I brought all my stuff, but when I saw the entrance I was facing a construction site," he said. "Even the lady in charge of giving us rooms had paint all over her.
"I met a couple of Iraqi girls who are not familiar with the area. One of them showed me her room. There was dust everywhere."
Four students have told the BBC they and others have missed lectures while they sort out somewhere else to live.
Northampton Student Lets, which is part of the University of Northampton's Students' Union, manages the tenancies in the building.
On 18 September, the union issued an apology, and said students were being helped "to find alternative or temporary accommodation".
A University of Northampton spokesman said its residential support services has offered assistance to affected students.