East Midlands police get own DNA profiling laboratory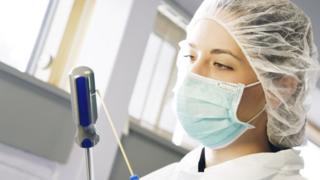 Five police forces are to share a DNA forensic laboratory which they say will speed up detection and save money.
Forensic officers from the East Midlands Special Operations Unit (EMSOU) will work alongside scientists at the new lab in Nottinghamshire.
EMSOU will now have DNA results within a matter of hours instead of days.
Until recently forces would have to send samples of DNA material such as blood, saliva, hair or skin to labs in Oxfordshire and Lancashire.
Regional Deputy Chief Constable Martyn Bates said: "Not only does it mean our DNA samples can be processed more quickly, consistently and to the highest of standards, but it will also bring the scientist and investigator closer together, enabling them to work in the very best interests of each case.
"In short, it's going to refine and speed up the investigative process."
---
DNA profiling explained
A sample, or cotton wool swab, is taken from the cheek of a suspect or of fluid, such as blood, present at a crime scene. A swab can also be taken from an item such as a cigarette butt or cup
A laboratory officer will treat it with a range of chemicals and subject it to a number of processes in order to purify, amplify and isolate the DNA to create an electronic DNA profile
If a profile is found it is uploaded to the National DNA Database (NDNAD) and a comparison is run
---
A spokeswoman for EMSOU said the seven-year contract with private company Cellmark would lead to savings of £1.1m this year.
Cellmark staff will work alongside three EMSOU scientists based at the lab.
DNA profiling was pioneered by Sir Alec Jeffreys at the University of Leicester in 1984 and first used as evidence in court a few years later.
In 1995 the NDNAD was established on which offender DNA profiles are stored and can be searched.