Northamptonshire plan for mandatory unpaid leave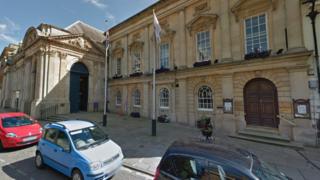 A council has said it may force staff to take one day's unpaid leave as part of cost-saving measures.
Northamptonshire County Council sent a letter on Friday notifying staff and trade unions of this possibility which the management team said it "remained committed to avoid".
If it goes ahead, the day's unpaid leave will be on 27 December.
About 3,000 staff would be affected, but these would not include those earning less than £18,500.
A spokeswoman from the Unison union said: "Staff already feel let down by the cuts which have already been made and this will only demoralise them even further.
"I believe that this will be the final straw and they will find it even harder to retain and recruit staff."
'Precautionary measure'
In the letter, revealed by the Northampton Chronicle & Echo, the council's management team said it was facing a "significant in-year [financial] gap" and the day's unpaid leave is one of a number of options to save money.
Unions and staff had to be notified by 30 September to allow for discussions and so it could be implemented in December.
The letter said notifying staff was "only a precautionary measure and we have discussed with trade union colleagues that we remain committed to avoid having to implement the requirement to take one day's mandatory leave".
It added: "When our cabinet have considered all the financial options and implications and if we don't have to rely upon this collective agreement, then we let you know."
The plan would be to spread the money lost in the unpaid leave day across year, rather than out of the December pay packet.
Northamptonshire County Council, which called on the government to provide more funding last month, said it will know by the end of October whether the unpaid leave is needed.