Police detain 13 people from Vietnam after M1 'incident'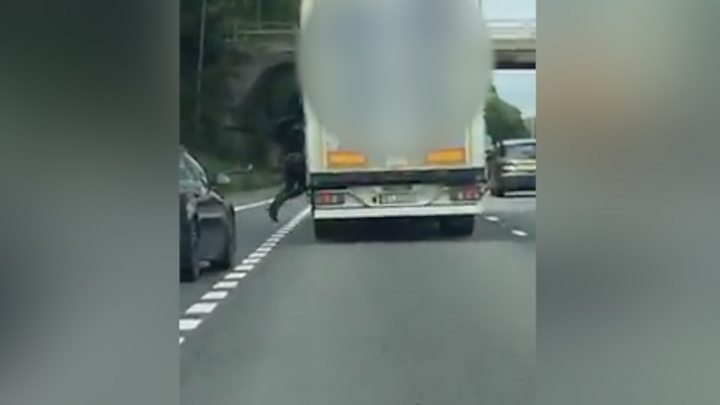 A group detained after people were spotted jumping from a lorry on the M1 are Vietnamese and include three children, the Home Office has said.
Dashcam footage showed people clinging to, then dropping from a vehicle between junctions 15A and 16 near Northampton on Saturday 23 September.
Northamptonshire Police detained 13 people who said they were from Vietnam.
Three of the group were children who were referred to social services, though their ages are not known.
The video shows people holding on to the side of a lorry before jumping down on to the road and running along the hard shoulder.
It was filmed by Lorraine Buff who was driving behind the vehicle and said she saw "around 20 people jumping out".
"I couldn't believe what I was seeing," she said.
Police could not confirm if Ms Buff's footage was the same incident they were called to.
A Home Office spokesman said: "Immigration Enforcement was contacted by Northamptonshire Police on the afternoon of Saturday 23 September, after police officers attended an incident on the M1.
"Thirteen people, who presented themselves as being from Vietnam, were referred to the Home Office and their cases will now be progressed according to the immigration rules.
"Among the thirteen were three minors who were referred to social services."