David Brickwood murder: Son vows to pursue killer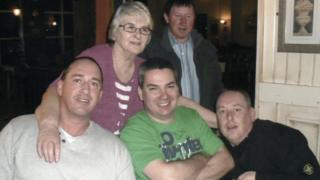 Two years after a scrap metal dealer was stabbed and beaten to death in his home, his son has vowed to "pursue his killer to the day I die".
David Brickwood, a 74-year-old grandfather, was attacked in his bed in Northampton on 26 September, 2015.
Despite numerous appeals no-one has been charged. Items dredged from a lake in January are not connected with the murder, police have said.
Gary Brickwood said the family would not give up until the killer was found.
Mr Brickwood was attacked in his Lindsay Avenue home in Abington in the early hours of the morning. He died in hospital shortly afterwards.
More news from Northamptonshire
A coroner found 35 separate injuries on Mr Brickwood's body, including blunt trauma wounds, muscle tearing and stab wounds.
His sons said their father "kept large amounts of cash in the house" - which they think may have been a motive.
Six people were arrested and a BBC Crimewatch appeal was aired, but no-one was charged.
Two years after his murder, police have renewed their appeal.
Det Insp Phil Mills, said: "It saddens me greatly that... we have yet to prosecute anyone for this terrible crime.
"I strongly believe people living in Northampton know who is responsible for ending David's life in such a brutal manner."
However, Mr Brickwood's sons remain critical of the investigation. Gary said the family feels they have been "let down by the police".
He believes the killer or killers are known to the local community.
"I'm asking a simple question - do you know what happened to my dad?"
"I made a promise to my father in his casket that I'd get justice for him," he added.
"Straight from my heart, I won't give up.
"While I have air in my lungs, I will pursue this to the day I die."