Ex-police and crime commissioner calls for CPS 'systemic reform'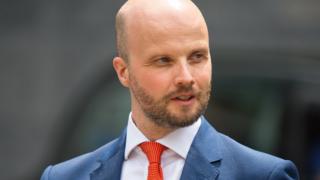 A former police and crime commissioner acquitted of recklessly breaching data protection laws says the Crown Prosecution Service (CPS) needs "systemic reform".
Ex-Northamptonshire PCC Adam Simmonds said the "lack of proportionality" in cases the service chooses to prosecute was "questionable".
More than £18,000 was spent on the failed prosecution of Mr Simmonds.
The CPS said the decision to charge him was based on "evidential tests".
The service did not comment on Mr Simmonds' calls for reform.
Mr Simmonds went on trial at Southwark Crown Court in July, but a jury was discharged after failing to reach a verdict.
The CPS later determined it was "not in the public interest" to hold a retrial and Mr Justice Nicholas Green directed a not guilty verdict.
A Freedom of Information request from the BBC found the CPS spent £18,224 on the failed prosecution.
Mr Simmonds, 40, from Leicester, had been accused of sharing confidential information about an inquiry into Wellingborough MP Peter Bone, which was dropped in March 2014.
Prosecutors alleged he recklessly disclosed information to colleagues within the Conservative Party.
He told the court he was concerned about the amount the time the CPS was taking to decide whether or not to prosecute Mr Bone and was worried the Tory MP would be "vilified".
'Major surgery'
Mr Simmonds said he had spoken to Northampton North MP Michael Ellis to find out if there was anything he could do to highlight his concerns.
Speaking about the CPS for the first time since the trial, Mr Simmonds said he is "not a fan" of the way it goes about its investigations.
He said throughout his time as PCC "the slowness and lack of proportionality in the cases they chose to prosecute was questionable."
He added the service was "in need of major surgery" and "requires systemic reform and change".
A CPS spokesman said the decision to charge Mr Simmonds had been based on "evidential and public interest tests".
He confirmed Mr Simmonds' defence team had applied to dismiss the charge but the judge ruled it should go before the jury.