Teenage girl finds mutilated pet on Northampton doorstep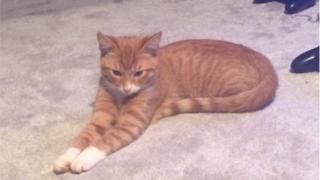 A teenage girl found the mutilated body of her pet cat dumped on her doorstep.
The head, limbs and ears of the ginger cat had been cut off before it was returned to its home in Betjeman Court in Northampton.
The 14-year-old made the discovery when she looked into a plastic bag on Monday.
Police said the mutilation happened days after the family's other cat was killed when it was deliberately set on fire.
In the latest incident the cat, known as Rusty, had been taken from its home sometime between 21:30 BST on Sunday and 10:00 on Monday.
PC Andrew Glover said the one-year-old cat was "a beloved pet and the family are understandably devastated".
"We are in the early stages of investigating, and are considering a number of lines of inquiry at this stage," he said.