Wicksteed Park pirate ship replacement is opened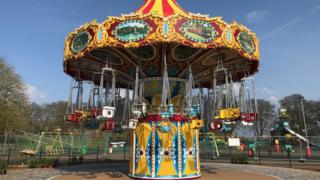 The replacement for a popular 34-year-old attraction has opened at a Northamptonshire theme park.
The Sway Rider at Wicksteed Park in Kettering replaces the pirate ship, closed in October due to rising maintenance costs.
The closure prompted about 250 comments on the park's Facebook page, with one man calling it "a travesty".
The Sway Rider is a carousel-type ride with 48 chairs swung to a height of 10 metres.
The pirate ship, which would have needed a £200,000 refit to continue operating safely, has been shipped to Kosovo after it was bought by a businessman who plans to restore it.
Mick Bush, operations director at Wicksteed Park, said it would never be forgotten.
"It is part of our history and the memory of it will live on," he said.
"I was disappointed when it had to go, but nothing is forever and this new sway ride is a family attraction which will give as much of a thrill as the pirate ship.
"It is unique to us, it's a beautiful machine, it's very quaint and it offers a very good ride experience."
The park originally announced the pirate ship's closure in 2015, but managers later said they decided to delay it by a year due to strong public reaction.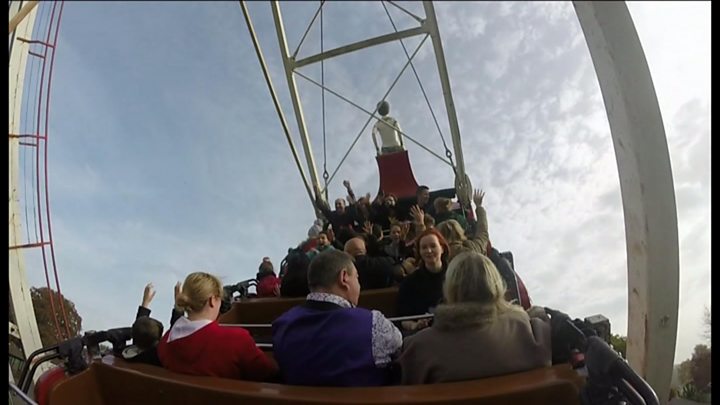 It eventually closed on 31 October 2016 after one final ride by 32 competition winners - including former employees - chosen by park bosses from hundreds of nominations.
The ship lives on in a small way at Wicksteed Park as there is a painting of it on the replacement ride.
Wicksteed, which opened in 1921 and is one of the UK's oldest amusement parks, is now planning a £4.5m redevelopment which would see some original features restored, including a rose garden and ice cream parlour.