Rushden police officer sacked for "inappropriate relationship"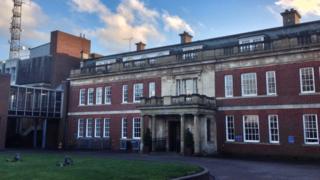 A police officer has been sacked for having an "inappropriate" sexual relationship with a woman who called police to her home.
PC Antony Pettinger, 35, based in Rushden, Northamptonshire, also sent inappropriate photos of himself to her, visited her while on duty and accessed confidential information.
He admitted to a hearing he had formed the personal relationship with her.
He said he "made a poor error in judgement."
LIVE: Updates on this story and other Northamptonshire news
Chief Constable Simon Edens told him at a disciplinary hearing he "presented a huge risk to public confidence in the police".
PC Pettinger admitted he formed the relationship with the woman between February 2015 and March 2016.
The hearing heard he had accessed details relating to both the woman and another individual without a policing purpose.
In mitigation, PC Pettinger was described as a "commended officer with a previously unblemished, 13 years front line career".
The chair of the hearing ruled he had grossly breached the standards of behaviour expected of a police officer and he was dismissed without notice.