Northamptonshire Police to get 46 new officers after £2m investment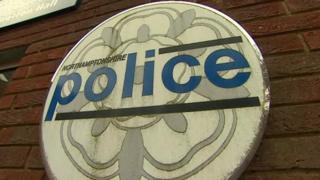 Northamptonshire Police is to recruit 46 new officers after a police and crime commissioner (PCC) announced a £2m investment.
The force will get 30 full-time officers, while the other 16 will tackle cyber crime and work in areas like domestic violence.
The extra jobs have been funded by cuts to PCC Stephen Mold's office and a rise in council tax.
Mr Mold said recruitment will be phased across the next year.
Read this and more stories from Northampton
Mr Mold said the 30 full-time officers would be visible and on the streets.
"My job is to make available the resources which is why we've managed to put together the £2 million extra," he said.
"That comes from a combination of... growth in the county, a council tax rise, and also efficiencies in my office and the police."
Mr Mold said the public had been consulted about the rise in the "policing" section of their council tax, and that "three-quarters" of residents supported the increase.
"Luckily we are a growing county and we've taken the decision to raise the precept which is 8p a week or £4.16 a year on a band D property... that's what it's going to cost the council taxpayer," he said.
"We've... had some that said they would have paid more."