David Brickwood murder: Police divers find 'items' in lake search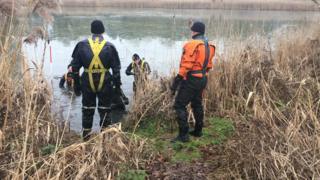 Police divers who spent four days searching a lake for the weapon used to murder a grandfather have recovered "a number of items".
David Brickwood, 74, died after being stabbed five times at his home in Lindsay Avenue in the Abington area of Northampton on 26 September 2015.
Officers began searching Eastfield Park Lake in the town last Monday, and finished on Thursday.
They said it was too early to say if the items were connected to his death.
Det Insp Phil Mills said divers had been were looking for a weapon or other items that may have been stolen from Mr Brickwood's home during the murder.
"While we have recovered a number of items, it is too early to say at this stage whether [they] are related to the murder of David Brickwood," he said.
"The items... will now undergo a forensic assessment."
More news from Northamptonshire
Mr Brickwood, a grandfather and father of three, died in hospital following the attack in the early hours.
The scrap metal dealer was known to keep money in his home.
The weapon used in his murder has never been found, and police admitted they were "not clear" about what else may have been taken.
The decision to search the lake was based on its location, officers said.
Eastfield Park is fairly close to Mr Brickwood's home and an area "offenders could have passed through... when fleeing the scene".
Six people have been arrested during the course of the investigation but no-one has been charged and no-one remains on bail.