Chances to stop 'sickening' assaults on baby missed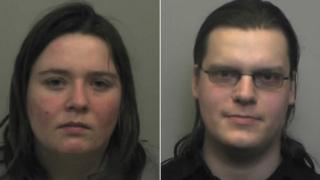 "Catastrophic injuries" inflicted on a newborn baby by her parents could have been prevented, a report has found.
Isabelle, now aged two, is unable to walk or talk after "sickening" assaults by Rocky Uzzell and Katherine Prigmore.
A report found she may not have suffered "life-changing" injuries if medics at Kettering General Hospital had spotted two broken ribs shortly before the pair's arrest.
The hospital said it "profoundly regrets" the "missed opportunities".
Isabelle is blind, wheelchair-bound, and fed through a tube as a result of her injuries.
The report, published by the Northamptonshire Safeguarding Children Board (NSCB) said Isabelle, referred to as "Child N", was seen six times at the hospital in the first five weeks of her life.
On 12 March 2014, she was admitted to hospital and given a chest x-ray for a suspected infection.
Two rib fractures were not identified, and she was sent home with antibiotics.
The 28-page report said: "If the rib fractures had been identified in the x-ray, this would have triggered a safeguarding response and, most likely, Child N would not have remained in the care of her parents, and not suffered subsequent catastrophic injuries."
On other occasions, the board said, Isabelle was admitted to hospital with "sentinel" injuries - which are often indicators of abuse.
However, her parent's explanations for the injuries were accepted, and insufficient consideration was given to the possibility of them being non-accidental, the report concluded.
Leanne Hackshall, the hospital's director of quality and nursing, said: "We profoundly regret the missed opportunities to escalate safeguarding concerns".
Measures had been put in place to improve safeguarding procedures, and staff had been given extra training, she said.
Prigmore, 24, and Uzzell, 29, admitted causing or allowing a child to suffer serious physical harm and were jailed last month.
Uzzell was sentenced for eight-and-a-half years at Northampton Crown Court, while Prigmore received a 28-month sentence.