Northampton Borough Council shoe photography role is 'unusual'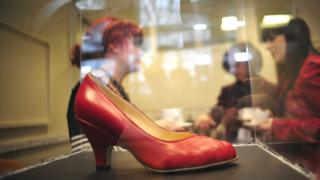 A council has been moved to explain why it has a virtual shoes officer.
The £22,000 post at Northampton Borough Council involves taking pictures of 13,000 pairs of shoes for a digital archive.
The authority, which also has a shoe curator, said Northampton Museum and Art Gallery has been recognised as being of "international significance".
A councillor who asked a question about the why the role had been created in 2015 said it was "unusual".
Conservative member Michael Hill asked what the role was at a recent council meeting.
Anna King, the council's cabinet member for community safety and engagement, said: "We are really proud of our shoe heritage and the fact that the shoe collection has been recognised as being of national and international significance.
"The exhibition and care of Northampton's shoe collection is looked after by the senior shoe curator and the virtually shoes project officer is a fixed term position that manages the Arts Council England funded project, Virtually Shoes.
"These two posts help to improve access to the collection, online and off-line."
In response, Mr Hill said: "We do have to bear in mind that we in Northampton are the holders of the national shoe collection so there will be case for such positions which there might not be in other parts of the country."