Row deepens into MP's role in £10m loan to Northampton Town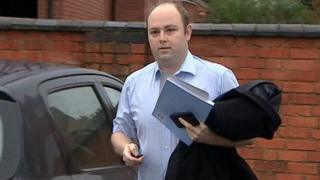 A split has emerged within the Conservative Party over the role Northampton South MP David Mackintosh played in a £10m football club loan.
Local Tories have said the party leadership is to investigate Mr Mackintosh's involvement in the failed 2013 loan to Northampton Town.
However, Conservative Central Office has denied the claim.
Mr Mackintosh was leader of Northampton Borough Council at the time the loan was approved.
Read more on this and other Northamptonshire news
A statement issued by Northampton South Conservative Association on Thursday said the party leadership "wishes to take a more in-depth look at the several issues" raised by an audit report last week.
Specifically, it wants to look at "the role played" by Mr Mackintosh.
The association has also postponed a confidence vote due to be debated on Friday which expressed "concerns over the conduct" of Mr Mackintosh and its reputational damage.
However, Conservative Central Office issued its own statement reporting that "the Conservative Party is not investigating". It refused to comment further.
---
Analysis: Julian Sturdy, BBC Look East
This marks a widening of the rift between the local party and Tory HQ.
Over the past year local officials have publicly stood by their local MP as he faced repeated criticism over what he did before he became an MP.
With a majority under 4,000 there had been no appetite to attempt to force a by-election, while I'm told by a close source that Mr Mackintosh - who denies any wrongdoing - is no mood for standing down.
But something has changed and the fall-out between MP and the association which picked him has gone from private murmurings to open conflict.
Who'd be a fly on the wall in the open-plan office they share?"
---
The majority of the £10.25m given to the club, under its previous ownership, has gone missing.
The PricewaterhouseCoopers audit report identified a number of issues with the approval and handing over of the money.
It claimed that, due to "political and management pressure", it was not properly checked.
Mr Mackintosh has previously apologised for his part in the approval of the loan, but said he "never asked or pressured officers to cut corners".
Northampton Town was given the £10.25m to redevelop Sixfields stadium three years ago, with much of it being passed to a company called 1st Land Ltd.
The company is now in liquidation while the work on Sixfields was not completed.
A BBC investigation found Mr Mackintosh benefited from "hidden" donations of £30,000 to his general election fighting fund from 1st Land. The controversy is currently subject to a separate police inquiry.
The MP has previously denied any wrongdoing.