Lindsay Lohan tweets video apology to Kettering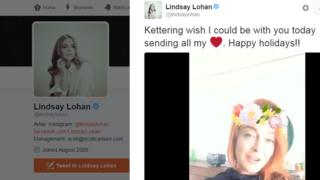 Hollywood star Lindsay Lohan has recorded a video message to Kettering confirming she will not be switching-on the town's Christmas lights.
She was invited by MP Philip Hollobone after her "offensive" tweet about the town on EU referendum night.
In a video on her Twitter feed, Miss Lohan said: "I really wanted to make it but with my busy schedule I wasn't able to and I appreciate the offer."
Mr Hollobone said earlier that it was a "big disappointment".
He added: "I think that when you're an international celebrity who says you're going to do something then people expect you to do it.
"I think most of us thought that she wouldn't actually come but I think there was a little bit of all of us that hoped she would."
---
What does Kettering think of Lindsay Lohan?
---
Ms Lohan emerged as an unlikely EU referendum pundit on results night with a series of social media posts in which she pleaded with Britain not to leave the European Union.
She tweeted saying "Sorry, but #KETTERING where are you?".
In response, Conservative MP Mr Hollobone said that switching on the Christmas lights would "redeem her political reputation".
Ms Lohan replied: "Direct message me about your offer. Would be happy to light the Christmas tree in #Kettering."
'No confirmation either way'
Earlier a spokesman for Kettering Borough Council said the authority had repeatedly contacted Miss Lohan's management but had failed to get a definite answer either way.
He said: "They have not requested any detailed information about tonight's event so we have naturally come to the conclusion that she will not be coming.
Eastenders actress Cheryl Fergison, who is appearing in pantomime in the Northamptonshire town, is set to take centre stage alongside local children on Thursday evening.
The BBC has approached Ms Lohan's representatives for comment.