Northamptonshire: History spotlight on drive-through county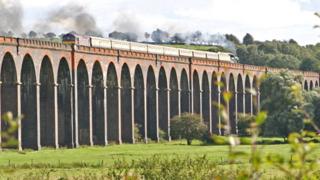 An English county more often driven through than stopped in by tourists hopes to attract more people to its hidden gems.
Northamptonshire is bisected by the M1 north-south and the A14 east-west with the Midland Mainline going through it, but it is also home to key sites in the history of England.
The county council wants to set up the Northamptonshire Heritage Trust to champion the area. It will be discussed on Wednesday.
Heather Smith, the leader of Northamptonshire County Council, said: "A lot of people don't know Northamptonshire. It is a place they drive through.
"We want to put a spotlight on the county with this over-arching trust. It has hidden gems to be discovered."