Lindsay Lohan's agent 'in talks' over Christmas lights switch-on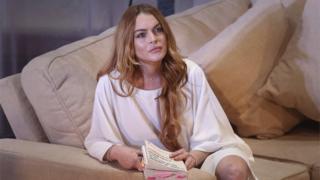 Hopes that Hollywood actress Lindsay Lohan may turn on Kettering's Christmas lights have been raised after her agent got in touch with the local council.
The star was invited to perform the task by the town's MP after an "offensive" tweet on EU referendum night in which she asked, "sorry, but Kettering where are you?"
She accepted, but the council was unable to pin her down to the date.
The council now says her agent has said Lohan is checking her schedule.
Conservative MP Mr Hollobone invited the actress to Kettering after she told millions of her social media followers she had no idea where the Northamptonshire town was.
"Everyone knows where Kettering is, it's famous as the home of Weetabix," Mr Hollobone said.
Switching on the Christmas lights would "redeem her political reputation", he added.
Lohan replied: "Direct message me about your offer. Would be happy to light the Christmas tree in #Kettering."
However, it emerged the borough council had been unable to get hold of Lohan's management team and last week Mr Hollobone said: "Lindsay Lohan please get in touch, your public awaits."
It appears to have done the trick as her management team has now spoken with the council.
"Understandably her schedule is very busy but they are looking to see whether she can make it work," a spokesman said.
Lohan emerged as an unlikely EU referendum pundit on results night with a series of social media posts in which she pleaded with Britain not to leave the European Union.