World Conker Championship crowns new king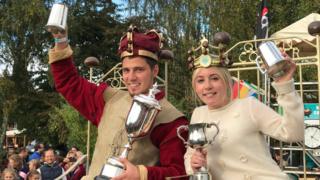 A new king has been crowned World Conker Champion after taking part in the annual games for the first time.
Tom Dryden, from Earls Barton in Northamptonshire, described the news as "absolutely outstanding".
Lorna Clarke, from Oxford, took the the women's title. It's the second time she has entered the games.
Organisers said 190 competitors from countries including Russia, the USA and Japan took part in the event in Southwick, Northamptonshire.
Read more about England's events on Pinterest
Since it began in 1965, the event has raised about £400,000 for blind and visually impaired charities.
Ms Clarke, a digital marketing manager said: "Its amazing. The trick was skill, accuracy and a little bit of luck. My colleagues will laugh but will be very impressed."
Mr Dryden, who is a Cub Scout assistant, said: "I never thought I'd win the first time I entered. The cubs will be over the moon."
A new conker is used for every round. StJohn Burkett said preparations had been tough this year because of a shortage of decent conkers.
He said: "We collect a couple of thousand and we have to get the proper Championship-sized conkers. They're quite rare.
"We usually rely on two secret trees but even they haven't produced this year so we've had the whole committee out collecting."
---
Official rules
Conkers are provided for each game and cannot be tampered with or re-used
There must be at least 20cm (8in) of lace between knuckle and nut
Each player takes three alternate strikes at their opponent's conker, with a game decided once one of the conkers is smashed
If a game lasts for more than five minutes it is halted and each player will be allowed a further nine strikes
If neither conker is smashed then the winner will be the player who hit the nut the most times during this period