Police commissioner's staffing costs cut but still total £1m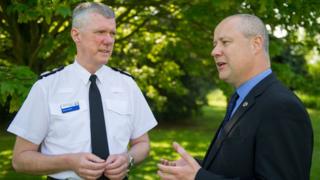 More than £1m is being spent on staff at a police and crime commissioner's (PCC) office despite eight positions being cut.
A new management structure announced by Northamptonshire PCC Stephen Mold will save more than £170,000.
His office still employs 18 staff members at a cost of £1.14m.
Gez Jackson, from Northamptonshire Police Federation, welcomed the savings but said it was still "an awful lot of staff".
Mr Mold was elected in May after his predecessor and fellow Conservative Adam Simmonds stood down.
On his departure, Mr Simmonds was spending £1.32m to employ 26 people.
Police authority
However, the new staffing levels and cost are still higher than in 2014 when the BBC revealed Mr Simmonds' office cost 61.5% more than the old police authority.
The authority had employed seven staff members at a cost of £694,599. In 2014, Mr Simmonds was spending £1.12m on 17 staff.
The cuts come despite Mr Mold having last week placed adverts to recruit three new members of staff.
The three advertised roles - for an early intervention manager, a digital engagement manager and a director for delivery - add up to £158,961 to the office's wage bill.
The director of delivery role will see a replacement appointed for Kathryn Buckle, appointed by Mr Simmonds after working as his election agent.
The other positions are new roles.
Mr Mold said it had been important to review the structure to ensure it "represented value for money".
Former Labour MP and Green party spokesman Tony Clarke, a long-time critic of the role of PCC, said the whole post is "an extravagant irrelevance".
"Not a single penny is warranted," he said.
Previous incumbent Adam Simmonds was criticised after revealing he would be creating 17 new posts when he became Northamptonshire's first PCC in 2012.
Mr Jackson said: "This is a positive step forward and hopefully there will be more savings to come to help us provide frontline policing."