Northampton Greyfriars: Plans approved for old bus station site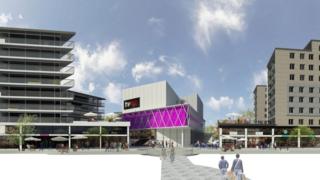 Plans to redevelop the site of a brutalist bus station dubbed the "mouth of hell" have been approved.
The Greyfriars building dominated Northampton's skyline for 40 years before it was demolished in March 2015.
The new development will have 150 flats, 500 student rooms and 81 retirement apartments.
The site, which is due to open by 2021, will also include restaurants, a hotel, a coach station and either a cinema or a trampoline centre.
At a meeting on Wednesday night, Northampton Borough Council chose two developers to build on the four-acre (1.62 hectare) town centre site, which will have a pedestrian link to the Grosvenor shopping centre.
Opposition councillors described the plans as "boring" and "not radical enough" while the owners of existing leisure complex Sol Central, which has a Vue cinema, have opposed another cinema for the town.
Tim Hadland, cabinet member for regeneration, said: "We have attached a high degree of importance to financial viability and to the worth and value of the proposed developers.
"We're as sure as we can be that they have the facilities to do it, that they've got the backing to do it and we will do all we can to make sure that it does happen."
'Mouth of hell'
Greyfriars bus station was demolished in March 2015 having dominated the town's skyline for about 40 years.
It opened in 1976 and was described by commentators at the time as a "feat of engineering".
The building was once described as being "like a great big mouth of hell" by Channel 4 presenter and designer Kevin McCloud.