Lorry driver accused of shunting car on M1 not guilty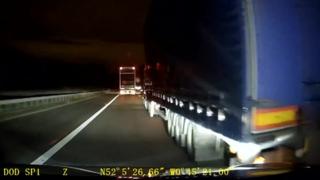 A lorry driver who was accused of "repeatedly and deliberately" ramming his vehicle into a car on the M1 has been found not guilty.
Paul Edwards, 68, was cleared at Wellingborough Magistrates' Court of driving without due care and attention.
Footage from a dashboard camera was alleged to have shown a lorry shunting a car near Northampton on 11 November.
Magistrates said they could not be sure the vehicles had collided, and found him not guilty.
They said Mr Edwards, of Trident Drive, Dunstable, was a "credible witness" and "competent driver with a 45-year clean driving licence".
He was employed by Wincanton hauliers as an agency driver, and liability for damage to the car was accepted by the firm's insurers.
Footage of the incident had been released by Matthew Stockdale, who said he was overtaken and then cut up as he drove along the motorway.
Speaking after the verdict, Supt Dennis Murray said: "Today's case goes to show that if people are staying in the middle lane when they could move across, this does cause issues and frustrations."