Bryony Freestone Thailand drowning: Twin sister and boyfriend pay tribute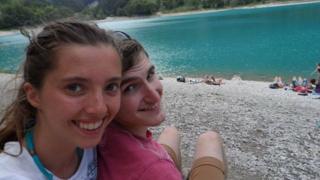 The boyfriend of a student who drowned in Thailand has spoken of the "big open space where [she] should be".
Bryony Freestone, 19, from Little Houghton, Northampton, died off the island of Koh Chang on 14 August.
Kurtis Middleton, who had been with the Exeter University student for more than three years, said she taught him "to seize life by the horns".
Her twin Sophie said Bryony recently said "if she were to die right now, she would have lived her life to the full".
Bryony, a student at the university's Penryn Campus in Cornwall, was said to be "talented, dedicated and hugely popular".
Describing her as "my beautiful Bryony", her boyfriend said: "You were more than just my partner, you were my best friend and over our three years and three months we had together I've grown into a much better person, simply through knowing you."
'Sleep tight'
Her sister agreed, saying: "You were the most vibrant, passionate, happy person I have ever known, enthusiastic about absolutely everything.
"I will endeavour to live my life the best I can for her."
Mr Middleton added: "Bry taught me how to seize life by the horns and make the most of every moment... we could all learn a lesson from her.
"Sleep tight Bryony, I love you with all my heart."
Earlier this week the Foreign Office confirmed it was supporting the family of a British national "who sadly died in Thailand on 14 August".