Northampton mystery vegetable planter delights locals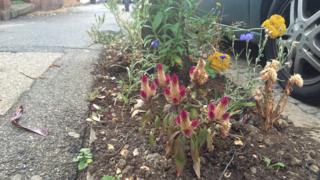 A mystery gardener has been brightening up a town centre street by planting flowers and vegetables.
As reported by the Northampton Chronicle, Stimpson Avenue, Abington, Northampton, has become home to several small plots of vegetation.
Tomatoes, runner beans and beetroot are among the crops being grown.
Resident Gary Cowell told the BBC: "I haven't a clue who's behind it and I've never seen anyone doing it".
Read more on this story and other Northamptonshire news
Liz Jones, a teacher at the nearby Stimpson Avenue Academy, said: "It really brightens the place up.
"When you park your car, you get out and think 'oh, they look pretty'. Imagine this street with no trees or no plants, it would be very stark and very bare and unwelcoming, but now we've got the lovely trees and the plants themselves."
Northampton Borough Council has been asked to comment.